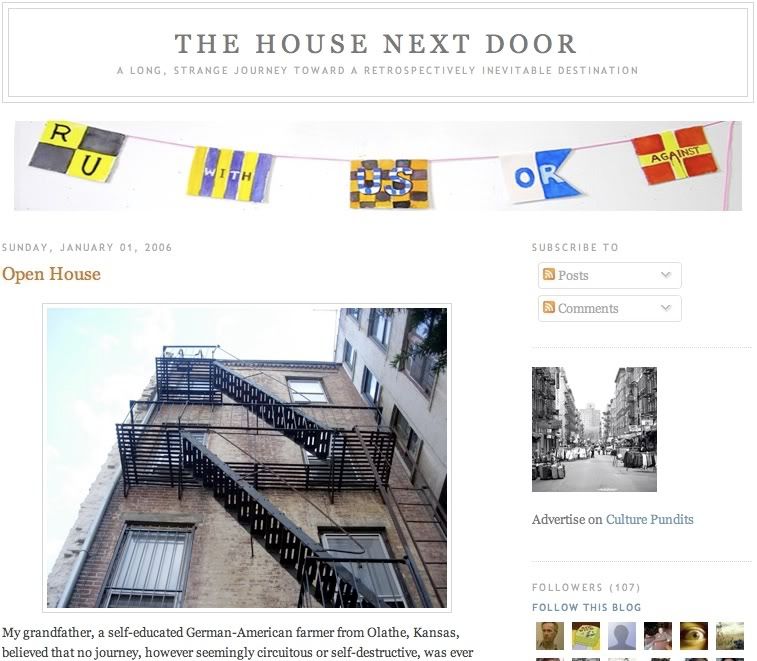 by Ryland Walker Knight

[Here begins a short series on the blogs we've chosen to add to the "Blogs of Note" section of the Art+Culture Film Magazine landing page, a pageflakes-like assemblage of RSS feeds, which we are continuing to tweak in this beta phase. We should note, in addition, that we are open to suggestions!]
While I understand that there is a certain conflict of interest in promoting another outlet I write for (on occasion), I feel this is a necessary nod as Matt Zoller Seitz and Keith Uhlich are largely responsible for my first exposure to the broader blogosphere.
VINYL IS HEAVY
attracted a few stragglers when it began, but it wasn't until I began writing (and sporadically at that) for
The House
that anybody really paid attention to what weird words I wrote. So this first spotlight is a thank you. Also, Matt's baby, which has matured in three years into Keith's angsty teen (dog years? mixed metaphors?), is kind of a big deal now'a'daze so this link is possibly redundant. Then again, all in this series probably will be since this little thing I've started is going to be read by very few people as we build up our base.
In any event, The House Next Door has blossomed into one of the premiere online film blogs, acting as host to a wide stable of young writers (and some not-so-young writers) eager to share their particular perspectives and passions. What began as a platform to sing praises about Terrence Malick's
The New World
, now affords space to television and music and, even, last fall, some political intrigue on top of the continued interest in cinema. And it continues to morph and build into something new, like any home, as it welcomes more and more readers and writers. Visit the lively comments sections for often funny and definitely irreverent opines and rants, arguments and shouts, all kinds of ideas. If only we could get Keith to write more often and get Matt back into writing at all, we would be in even better shape as fans and curious readers and friends alike. Finally, a bit of self-promo to top it off: To mark the anniversary of the site this new year, Keith and I composed a pean, of sorts, to the site and to that Malick film, and how both have shaped our trajectories, which you can read by clicking
this link right here
.